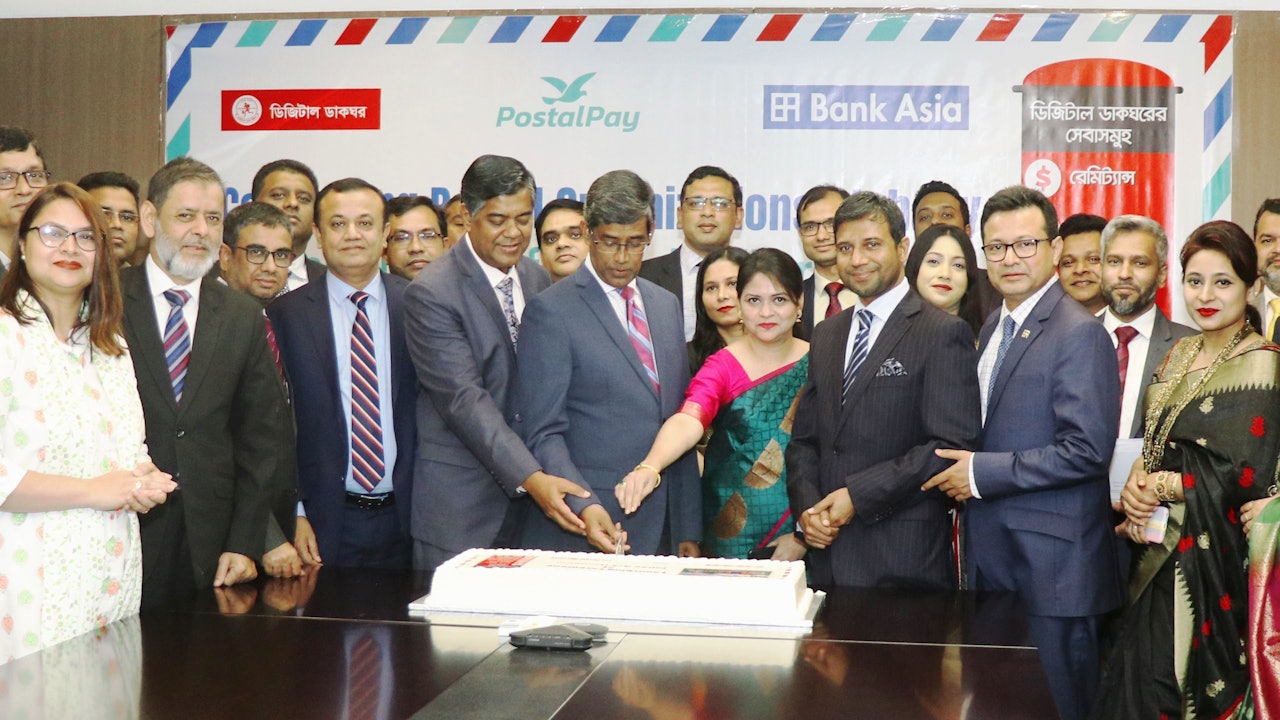 Article · 2022-01-13
Bank Asia extends financial services portfolio with new Eurogiro/Inpay partnership
Customers of Bank Asia and Bangladesh Post are now able to send and receive remittances for less with the introduction of a new financial services platform from Inpay and its sister company Eurogiro, the global postal network body.
Through this partnership, Bank Asia and Bangladesh Post will be connected to other global postal organisations and financial institutions.
Consequently, customers will be able to send money for less to a wide range of countries, and receive money from around the world to any Bank Asia branch, agent banking outlet and post office in Bangladesh.
Senders in the UK and eurozone are now able to send payments back to Bangladesh with the co-branded PostalPay app from Eurogiro and Inpay.
These services from Eurogiro and Inpay are available through a single access point, with no implementation costs, and with considerable potential to generate new revenue from the get-go. The platform enables postal operators and other financial institutions to manage their wide range of services.
The launch was celebrated at the Bank Asia Tower, in Dhaka, where Mr. Md Arfan Ali, president and managing director led the service.
The event was covered by a wide selection of international press and other online media.
Thomas Jul, Inpay's acting CEO and Amol Wagle, Eurogiro Head of Sales virtually joined the programme.
Thomas Jul said: "It was a huge pleasure to be part of this historic day and I'm proud that Bank Asia and Bangladesh Post can now offer faster, safer and cheaper money transfers to their consumers in Bangladesh and across the world, thanks to their partnership with Eurogiro and Inpay.
"In 2020 the personal remittances received in Bangladesh amounted to approximately 21.75 billion U.S. dollars, making it a hugely important remittance corridor. This deal means that millions of local and globally located Bangladeshis have the option to send and receive secure payments for less. This also marks a key strategic step for Inpay and Eurogiro as we strengthen our position in Asia.
"Everyone involved has worked incredibly hard on this project and we are delighted that Inpay and Eurogiro can help Bank Asia and Bangladesh Post increase their service offering and give even more to their customers.
"I want to specifically thank Bank Asia's Managing Director, Mr. Md Arfan Ali for spearheading this successful new chapter of cross-border payments."
Mr. Md. Arfan Ali, President and Managing Director of Bank Asia said: "I am delighted about the successful partnership between Bank Asia, Inpay and Eurogiro. Bank Asia and Bangladesh Post Office have a strong commitment to their customers to provide a wide range of excellent finance services. Through this partnership Bank Asia will be able to offer cheaper, faster and more secure money transfer services to the Bangladeshis diaspora community in UK and Eurozone. We look forward to a very successful year 2022 for all."